No matter where you are in your fitness journey, mini power workouts can be your new best friend.
Commit to moving all day long by way of the 60/60 workout plan, which basically equates to a 1-minute mini workout.
It requires zero equipment, and is easy to do no matter where you are. All you have to do is get your body moving for 60 seconds, every 60 minutes. It may sound simple, but doing a one-minute mini workout at multiple intervals throughout the day can help keep your mind and muscles from getting bored.
The immediate benefits are so many!
You will experience a massive energy boost and a sense of urgency when you get back to work.
You will feel more alive and ready to tackle projects that you otherwise would have procrastinated.
You will wake up a little sore the next day, but totally excited about your mini-workouts.
You will fall in love with your new exercise routine that never involves a gym, weights, or taking a shower! Genius!
I suggest setting an alarm every hour on the hour, and spending one minute doing as many of each of the below moves as you can (you'll do a different move at every interval)—the more frequently you do it, the more reps you'll be able to get in under a minute. By the end of the day, you'll have gotten a full 12-minute workout in without even realising it.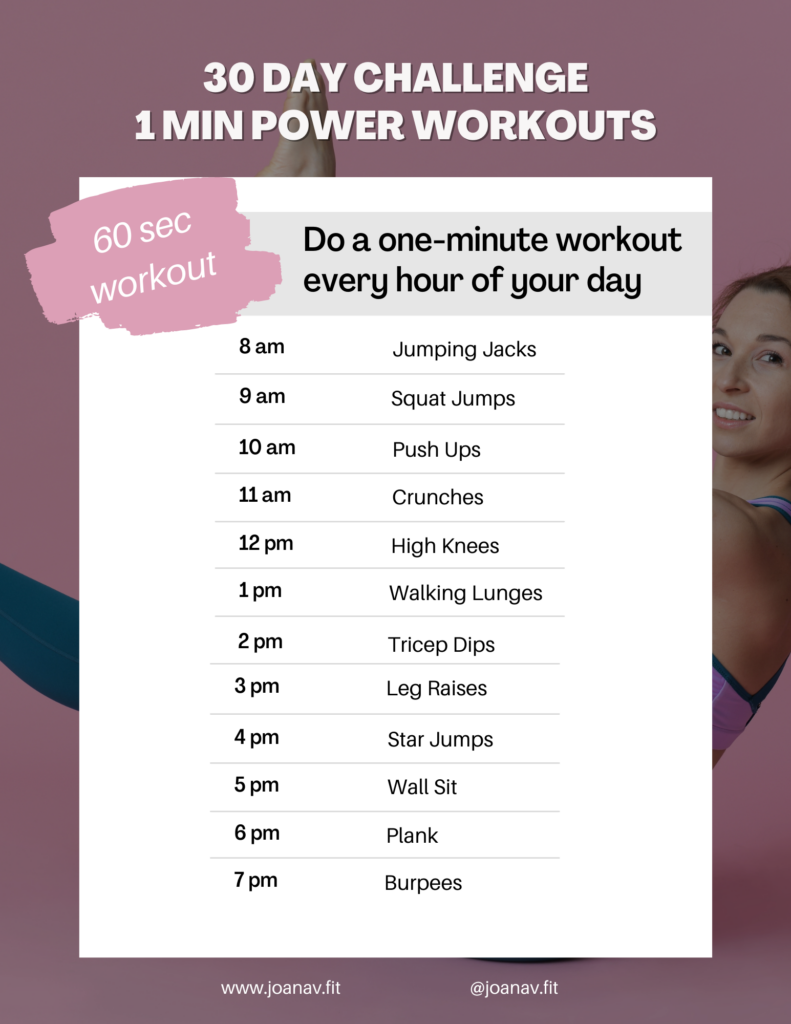 Keep in mind, however, that mini power workouts shouldn't be your permanent strategy. While you can maintain your fitness level and gain some new skills, it's not a long-term replacement for making time to work out!

Your Coach,
Joana V